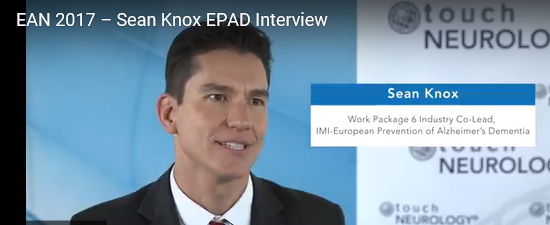 On June 24-27, the third Congress of the European Academy of Neurology (EAN) took place in Amsterdam. The congress gathered more than 6,000 neurologists from all over Europe and the rest of the world.
Our WP6 co-leader Sean Knox attended the event. He presented the EPAD project in a great interview with Touch Neurology. He talked about the EPAD project, its aims, its progress to date and where further information can be found on this important project.
The interview filmed at the 3rd EAN can be watched on our EPAD YouTube Chanel (IMI EPAD).
More information on EAN2017: https://www.ean.org/amsterdam2017/3rd-Congress-of-the-European-Academy-of-Neurology-Amsterdam-2017.2844.0.html