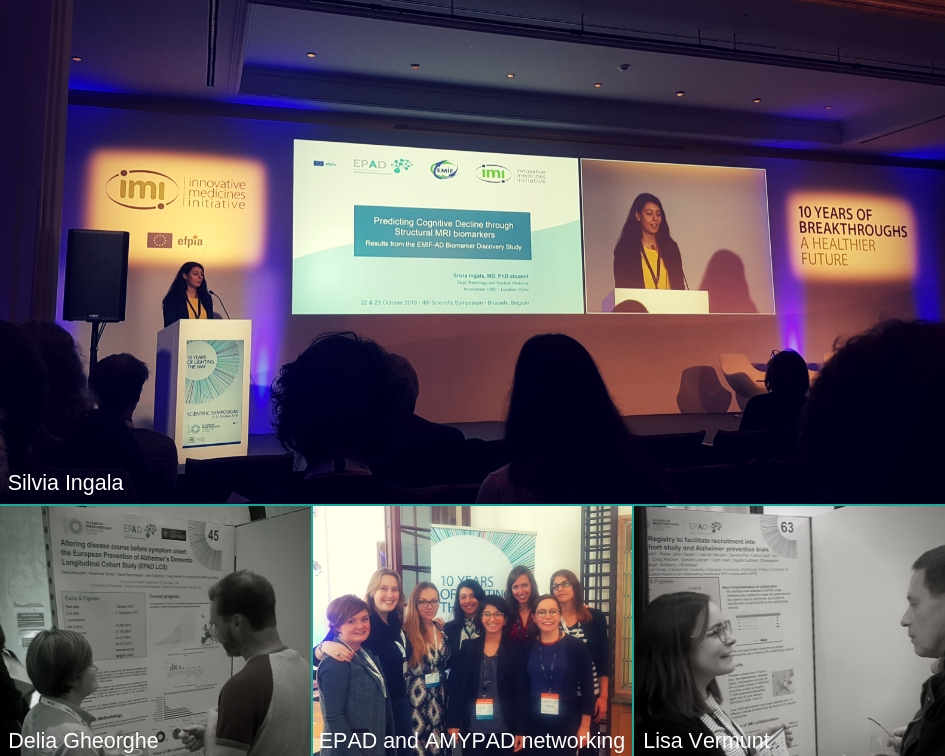 On 22-23 October, the Innovative Medicines Initiative (IMI) held a scientific symposium in Brussels (Belgium) to celebrate its 10th anniversary. Young researchers from IMI projects were invited to submit abstracts for IMI's first scientific symposium to showcase the stellar science that IMI projects have been doing.
The symposium featured 72 poster displays and 25 oral presentations that were selected by a Programme Committee comprising top experts, and were clustered around four themes:
New targets, tools and pathways 
From concept to trial 
New clinical and regulatory paradigms 
Patient engagement along the value chain.
We are glad than three EPAD abstracts were accepted at this year's IMI Scientific Symposium in Brussels:
Oral presentation: "Predicting Cognitive Decline through Structural MRI biomarkers: Results from the EMIF-AD Biomarker Discovery Study" – Ingala Silvia, VU Medical Center
Poster: "Altering disease course before symptom onset: the European Prevention of Alzheimer's Dementia (EPAD) project (WP4)" – Gheorghe Delia, University of Oxford
Poster: "European Prevention of Alzheimer's Dementia (EPAD) Registry for a longitudinal cohort and Alzheimer prevention trials" – Vermunt Lisa, VU University Medical Center.
In addition, Fiona Heeman (VU University Medical Center), Isadora Lopes Alves (VU University Medical Center) and Daniele Altomare (IRCCS – Fatebenefratell), three of our EPAD Academy fellows, presented the AMYPAD project.
More information can be found on the IMI website.