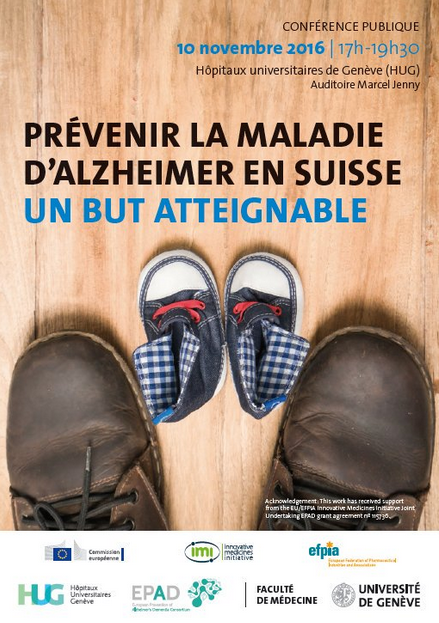 On 10 November 2016, the European Prevention of Alzheimer's Dementia (EPAD) initiative held a public conference in Geneva, Switzerland, in collaboration with Hôpitaux universitaires de Genève (HUG). Approximately 100 delegates attended the French and English-language conference, "Prévenir la maladie d'Alzheimer en Suisse – Un but atteignable" (Preventing Alzheimer's disease in Switzerland – A realistic goal).
The six eminent speakers included Prof. Frederick Barkhof, Professor of Neuroradiology, Department of Brain repair & Rehabiliation, Institutes of Neurology and Biomedical Engineering, UCL, London and Department of Radiology & Nuclear Medicine, VU University Medical Centre, Amsterdam. Prof. Barkhof's presentation was on "EPAD and AMYPAD: the future of Alzheimer's care is today".
Organisers were Neurologist Prof. Giovanni B. Frisoni, Professor of Clinical Neuroscience and Head of Memory Clinic, HUG and University of Geneva, Switzerland and Dr Idris Guessous, Head of Epidemiology, HUG and University of Geneva. Dr Guessous chaired the conference.
Acknowledgement: This work has received support from the EU/EFPIA Innovative Medicines Initiative Joint Undertaking EPAD grant agreement nº 115736.
http://www.hug-ge.ch/geriatrie/programme-conference-prevenir-maladie-alzheimer