The EPAD PoC platform is open for expressions of interest from intervention owners including pharmaceutical and biotechnology organisations, academic researchers, and funders.
The Process
Before the application process can begin, all parties must sign a non-disclosure agreement. The Clinical Candidate Selection Committee (or CCSC) will then conduct a scientific review to ensure that your intervention is suitable for EPAD. If approved, an examination of statistical and operational requirements will follow.
If all parties agree, this stage will be concluded with the signing of a letter of intent signifying the intervention owner's commitment to the EPAD PoC.
To have an optimal overview for planning, intervention owners are encouraged to contact the PoC team as early as possible to discuss a potential nomination.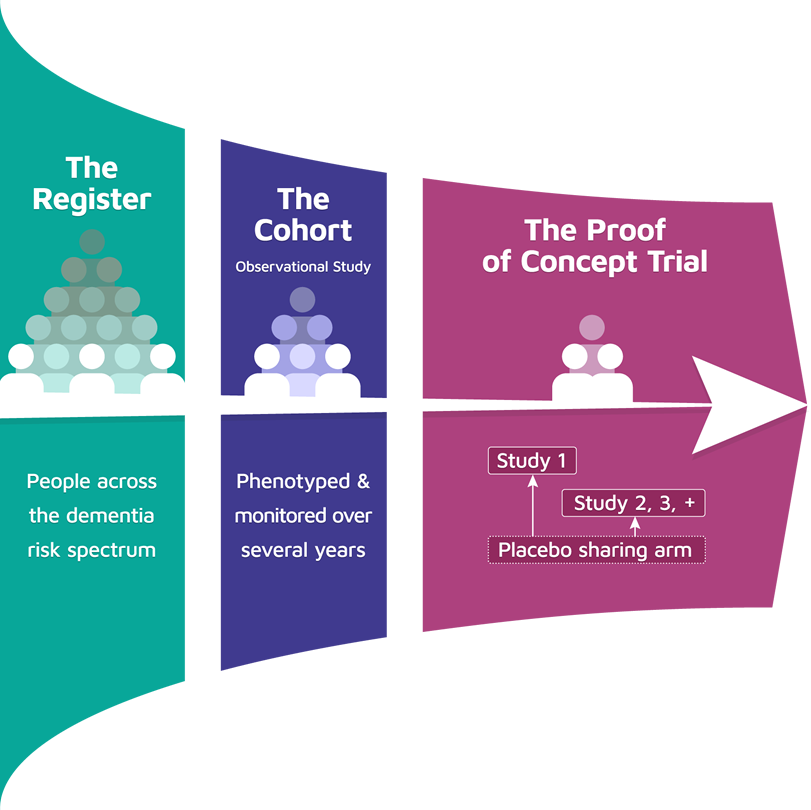 Approach: The intervention owner contacts the CCSC via email, or downloads, completes and sends an Expression of Interest to the EPAD PoC team at epad.poc@ed.ac.uk.
Assess: The CCSC reviews and identifies potentially suitable interventions and has preliminary discussions with the intervention owner. The CCSC provides the template Non-Disclosure Agreement, Nomination Form, and instructions on how to apply, to the intervention owner.
Submit: All parties sign the Non-Disclosure Agreement and the intervention owner submits the Nomination Form.
Review: The CCSC conducts a preliminary review of Nomination Form to determine whether additional experts are needed for the review and the formal CCSC review meeting date is set. If additional experts are required, the intervention owner must consent to their involvement, and an additional non-disclosure agreement may be required.
Decide: The CCSC review meeting with the intervention owner is conducted and a formal decision is made. Subsequently an operational and statistical review meeting with the PoC team and intervention owner is conducted to determine if their requirements will be possible within the EPAD PoC platform.
Establish: If accepted, the intervention owner signs the Letter of Intent, which triggers the constitution of the Appendix Writing Group. This group is led by the intervention owner and includes EPAD representatives. The Letter of Intent includes the fees payable by the intervention owner for the scientific, statistical and operational resources required to complete an appendix synopsis.
Finalise: The Appendix Writing Group works on their appendix in collaboration with the EPAD team to finalise the study design elements.
Review: The legal agreements and budget are reviewed per EPAD requirements and approvals received.
Commence: The Appendix Writing Group reconvenes as the Appendix Steering Committee to initiate study start-up activities.  Once approvals are received by the sponsor, recruitment from the Longitudinal Cohort Study begins and the trial commences.
If you would like to discuss any aspects of this process, or receive supporting documantation, please contact the EPAD PoC team at epad.poc@ed.ac.uk.