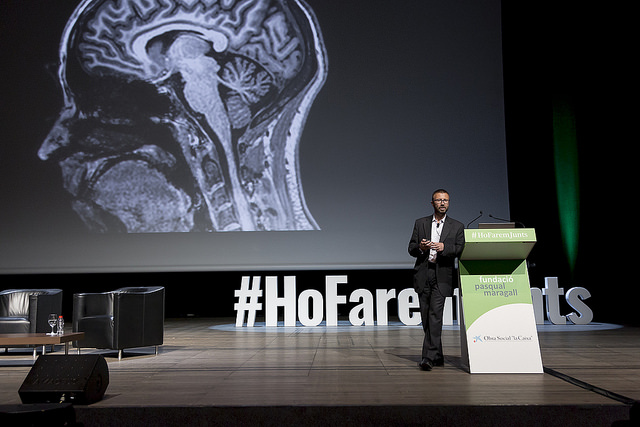 The 3rd Loyalty Meeting for research participants and collaborators of the Barcelonaβeta Brain Research Center (BBRC) took place on April 18th in Barcelona, Spain. The aim of these annual meetings, organised by the Pasqual Maragall Foundation, is to share their knowledge with their research participants and collaborators, as well as to increase their loyalty. Over 1,500 people attended this edition, entitled "The brain uncovered: Neuroimaging & Alzheimer's".
The event was divided into two main conferences, led by the Clinical Director, José Luis Molinuevo, and the Head of the Neuroimaging Unit, Juan Domingo Gispert. José Luis Molinuevo gave a presentation on the chronology of the major advances in Alzheimer's research and neuroimaging. He cited the launch of the EPAD project as one of these major advances. Then, Juan Domingo Gispert explained and illustrated the Magnetic resonance imaging (MRI) using the example of a radio and a violoncello. Finally, a video was presented in which two research participants pointed out the reasons they are involved in this research.
More pictures on the 3rd Loyalty Meeting for research participants and collaborators can be found here.