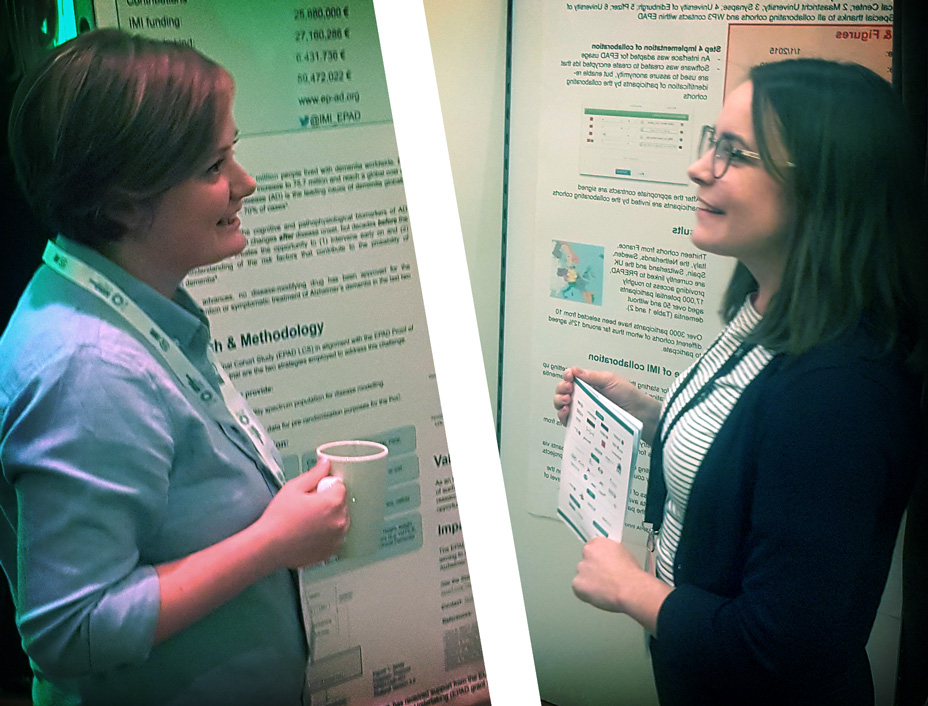 Lisa Vermunt (VUmc) and Delia Gheorghe (UOXF), our young researchers, have presented EPAD at the IMI Scientific Symposium in October. Lisa and Delia were happy to answer some of our questions! Here's a chance to get know them and their work a bit better.
What are your main tasks within the EPAD project?
LV: My main task involved setting up the EPAD Registry. In the beginning of the project, we created a small team, of which I am a member together with people from University of Leicester, Synapse and Pfizer. Everybody brought in different kinds of expertise. We also got local collaborators at the EPAD sites and the 'parent cohorts'. After the Registry came into use, we continued to adapt and extend it. Currently, we are evaluating the scientific output of the EPAD Registry. That is exciting. Additionally, I contributed to data collection for the EPAD cohort by starting up the EPAD site in Amsterdam. I really enjoyed working with our participants. Their motivation for EPAD is inspiring. 
DG: Together with the CRO and the Oxford team, I provide local support for EPAD trial delivery centres across England and Wales in their delivery of the Longitudinal Cohort Study. My main objective is to encourage recruitment and engage EPAD centres with local cohorts.   
What are the advantages for a young researcher working on a distributed collaborative project such as EPAD?
LV: The advantages of working for an European project is that you get to work on cutting edge research and learn to deal with significant challenges. I have also had the chance to work with people in more than 8 different countries, which is both interesting and enjoyable. Yes, I can totally recommend it.
DG: It is a unique opportunity for an early career researcher to be involved in the coordination of such a complex project. Among the advantages of this role, I feel most strongly about the management skills and the network that I have the chance to develop. Such an experience may add significantly to the success of my future grant applications.
What are your expectations from the EPAD Academy?
DG: In this context, the EPAD Academy provides opportunities for early career researchers to develop a professional network and learn from experienced scientists. In addition, we are provided with the opportunity to make our work visible to both academic audiences and industry stakeholders.
Who do you look up to professionally?
LV: Aha, there are many people, as there are a lot of great investigators involved in EPAD! In particular, I am going to mention Gerald Luscan, because he is not well-known to everyone, but he has the capability to make every problem smaller.